Continuously Building the Capacity of Reproductive Health Care Providers in Kenya
Submitted by mwanyonyi on Sun, 2016-06-19 12:19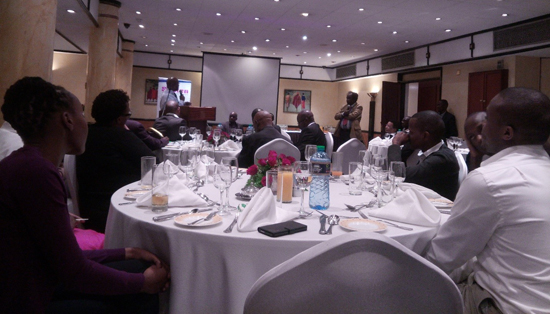 Professor Koigi Kamau, an associate Professor of Obstetrics and Gynaecology in the Department of Obstetrics and Gynaecology, chairs a continuous medical education on "The role of Progesterone in early pregnancy: A critical analysis of the PROMISE trial" at the Hotel Serena, Nairobi.
The main speaker was Dr Sikolia Wanyonyi, a Consultant Obstetrician/Gynaecologist and Fetal Medicine Specialist and Lecturer at the Agakhan University Hospital (AKUH), Nairobi.
This was a forum organized by the Kenya Obstetrical and Gynaecological Society (KOGS) and sponsored by SUN PHARMA, a pharmaceutical company. Present were members of KOGS from across Kenya.

Professor Ojwang' and Dr Omanwa Kireki give their remarks.