FIGO-WHO Trainer of Trainers Regional Training
Submitted by mwanyonyi on Thu, 2016-08-18 12:11
Location / Venue:
Johannesburg, South Africa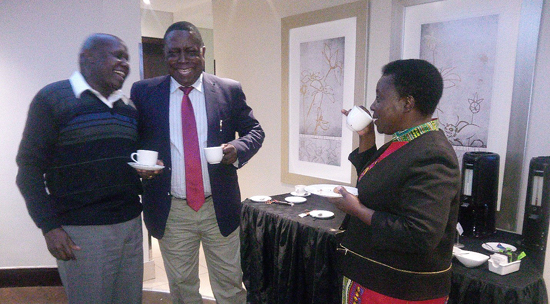 Professor Ndavi chats with a colleague from Nigeria and Dr Nancy Kidula, one of the trainers, during a tea break.
Professor Ndavi and Dr Kilonzo were part of the trainees for a two-day training of trainers on the World Health Organization (WHO) Reproductive Health guidelines and tools. The training was sponsored by a collaboration of the international federation of Obstetricians and Gynaecologists (FIGO) and WHO and aimed to update Obstetricians and Gynaecologists on the updated WHO reproductive health guidelines and tools. The trainer of trainers will then update and sensitize their colleagues through their national Obstetricians and Gynaecologists societies.
Click Here to watch a video of Prof. Ndavi's discussion.