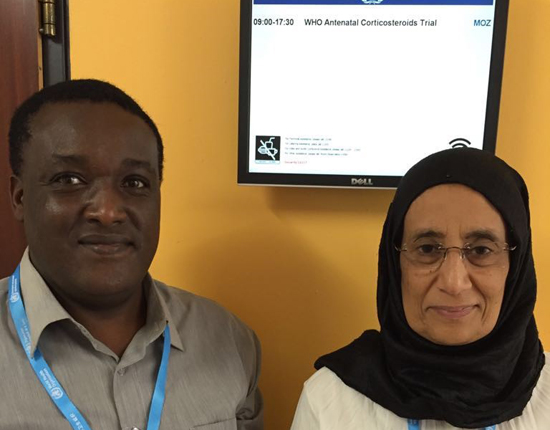 Prof. Qureshi [1] and Dr. Kinuthia attended the World Health Organization (WHO) Multi-country, multi-centre, two-arm, parallel, double-bind, placebo-controlled, randomized trial of antenatal corticosteroids for women.
The trial was for women at risk of imminent preterm birth in health facilities in low-resource settings to improve newborn outcomes trial 2nd Steering Group Meeting conducted at the WHO headquarters in Geneva, from 26th – 28th July, 2016.
Antenatal corticosteroids (ACS) have long been regarded as a cornerstone intervention in mitigating the adverse effects of preterm birth. However, there are several important limitations that restrict generalizability of these findings to ACS use in low-and middle-income countries (LMICs).
The aim of this trial is to determine whether antenatal corticosteroids are safe and efficacious for women and newborns in resource-limited settings, when given to women at risk of imminent preterm birth in facilities for the prevention of neonatal mortality. The steering meeting brought together trial investigators and technical advisors to review plans on the design, conduct and running of the trial. Kenya is one of the 5 countries expected to participate in the trial, which will run over a period of 2 years.