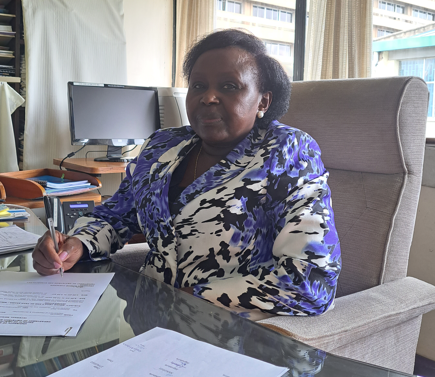 Prof. Eunice Jeptoo Cheserem - Chair
WELCOME to the Department of Obstetrics and Gynaecology.
The Department has been undertaking training specialists in Obstetrics and Gynaecology since 1972. Since then we have been able to train over 500 specialists comprising Kenyan and East-Central southern and west Africa regions. In the last five years, we have doubled our training intake to cater for the increased need for specialist in Obstetrics and Gynaecology in the country and the region as a whole. Though this still falls short of the total country's needs.
The department has revised its curriculum to meet the needs of the changing environment of specialist training with updates to the Academic staff in line with the changing trends. One of the key areas of the new curriculum is on the training of the students on leadership.  This is an important aspect of the training since the students on qualification a number do become mangers therefore the need to prepare them for the  future.
As part of provision of sub-specialist training, the department has introduced a fellowship program in Gynae Oncology and the first group of the fellows are set to complete their training soon. The other  fellowship program soon to be commenced is Maternal fetal Medicine (MFM).
We do expect our graduates upon completion to be self motivated professionals, adaptable to changing technologies and able to embrace a holistic approach to reproductive health care and research. 
Thank you.